上海Vivo City 怡丰城屋顶花园 Vivo City Shanghai Rooftop Garden
发布时间:2020年02月18日 点击数量:
1481
E-DESIGN 股份公司
E-DESIGN
坐落于上海莘庄板块,新加坡开发商丰树集团旗下的城市新地标—上海怡丰城,是一座拥有7栋办公楼、总面积32.4万 m2 的大型商业中心。Vivo City作为商业中心的一部分,传承新加坡Vivo City,以上海家庭娱乐为出发点,在大型商业设施中为市民提供一种崭新的生活方式。该作品在布置活动广场、游乐区、休息平台、有机农场等功能区的同时,将商业设施的繁华、绿化及开放区域进行了有机结合,以4个庭院为中心设计的独特屋顶花园为游客在购物之余提供了一个有良好氛围的休闲空间。
4个不同的庭院,结合高度变化的建筑外墙幕,形成环绕于内部重叠交错的平台式空间,区分每个活动空间的同时,引导每个趣味空间的互动关系。庭院通过空间上的交错,在单一屋顶上打造地形,营造进深感和立体感的空间。在设计过程中通过3D模型的重叠演示,有效地展示平台重叠交错的空间效果。
中央的露天广场作为整个商场的核心空间,整个宽敞的开放空间考虑了从高层俯视的效果。在两侧有坡度变化的草坪上,可以躺着、坐着、玩耍,立体的绿化空间具备多种体验方式使其成为多功能的休息空间。
儿童户外乐园分为探索区和玩水区2个区域。在冬季和夜晚,水池成为水镜,倒映着建筑外观和周边风景。在游乐区域的后方还设置可以出租的有机农场,引导各种不同游客之间的间接交流,将成为新的设施利用的契机。
有机农场是整个零散农场的核心区域,通过控制高度在周边设置坐凳,让来访者更加靠近农场的风景。
屋顶的空间设计通过台阶和凹壁的利用,随处营造以人为本的空间尺度,给来访者提供可以休息、滞留的惬意空间,人们身在其中宛如建筑设计主题"鱼篓"中的鱼儿,生气勃勃。
The business center with seven office buildings and 324,000 m2 of floor space was built in growing Qibao Area in Shanghai by a Singaporean developer, Mapletree. Vivo City is part of the business center development, and it is a large commercial complex mainly targeted to bring families new lifestyles, following the model of Vivo City Singapore. The 8,500 m2 of the rooftop garden was expected to provide the urban sustainable lifestyles, and spaces to play and relax. While providing functions of an event plaza, a playground, a resting space, and vegetable gardens, liveliness of the commercial facility and comfort of the greenery and outdoor environment were also presented in the design.
Four gardens are terraced in accordance with the architectural exterior walls with different heights and wrap the interior spaces. The activities in each garden are loosely separated while space structure allows interactions to draw interests in each other. Effective ways to terrace the gardens were studied in 3D simulations to increase the visibility of the green spaces from the vertical circulation paths from the interior atrium space.
The central event plaza is a significant space for the entire business center, and it is an expansive void space that receives views from the higher floors. Two lawn areas have the gradually changing slope and those areas for rest and relax accommodate various activities such as laying down, sitting down, and playing.
The play area is separated into two zones. In winter and night time, the water surface reflects the images of the buildings and surrounding landscape. There are rental vegetable gardens behind the play areas aiming to trigger the new uses of the facilities caused by the indirect interactions between the play area users and the garden users.
The farm garden is intended to be the core facility among the scattered vegetable gardens, and with limited height and benches at the perimeters, the vegetable gardens will become familiar landscape.
Overall, human scale spaces were created using the elevation difference and alcoves to provide visitors with spaces to relax and stay in a lively atmosphere. As the theme for the architectural exterior finish is a "creel", we hope this rooftop garden will generate fresh and energetic activities like fish.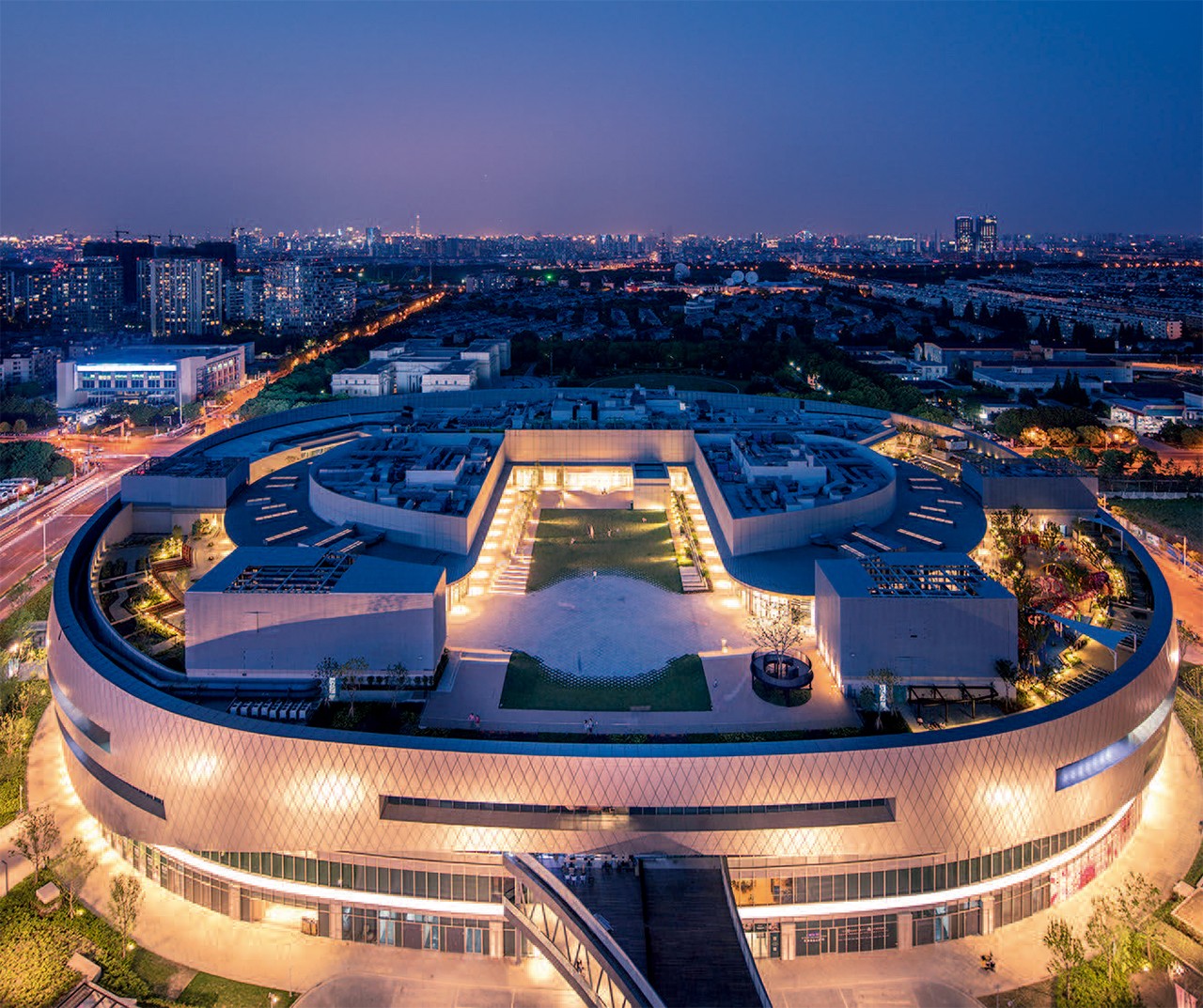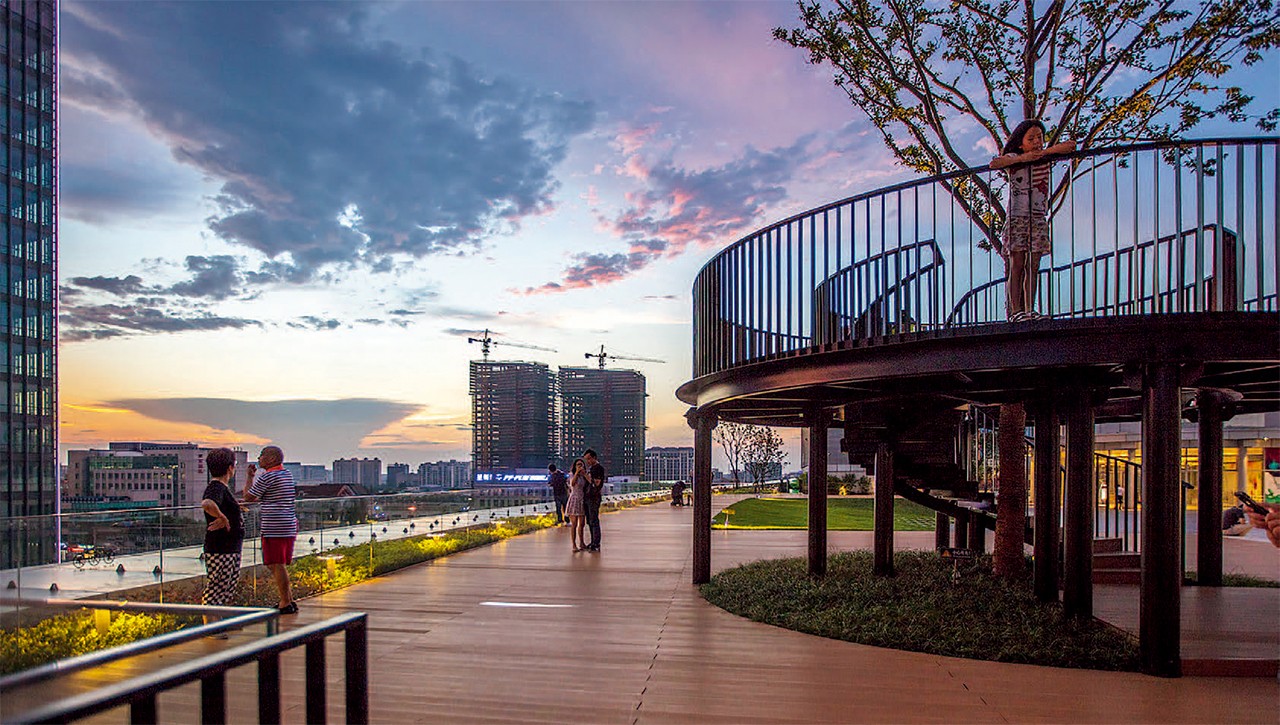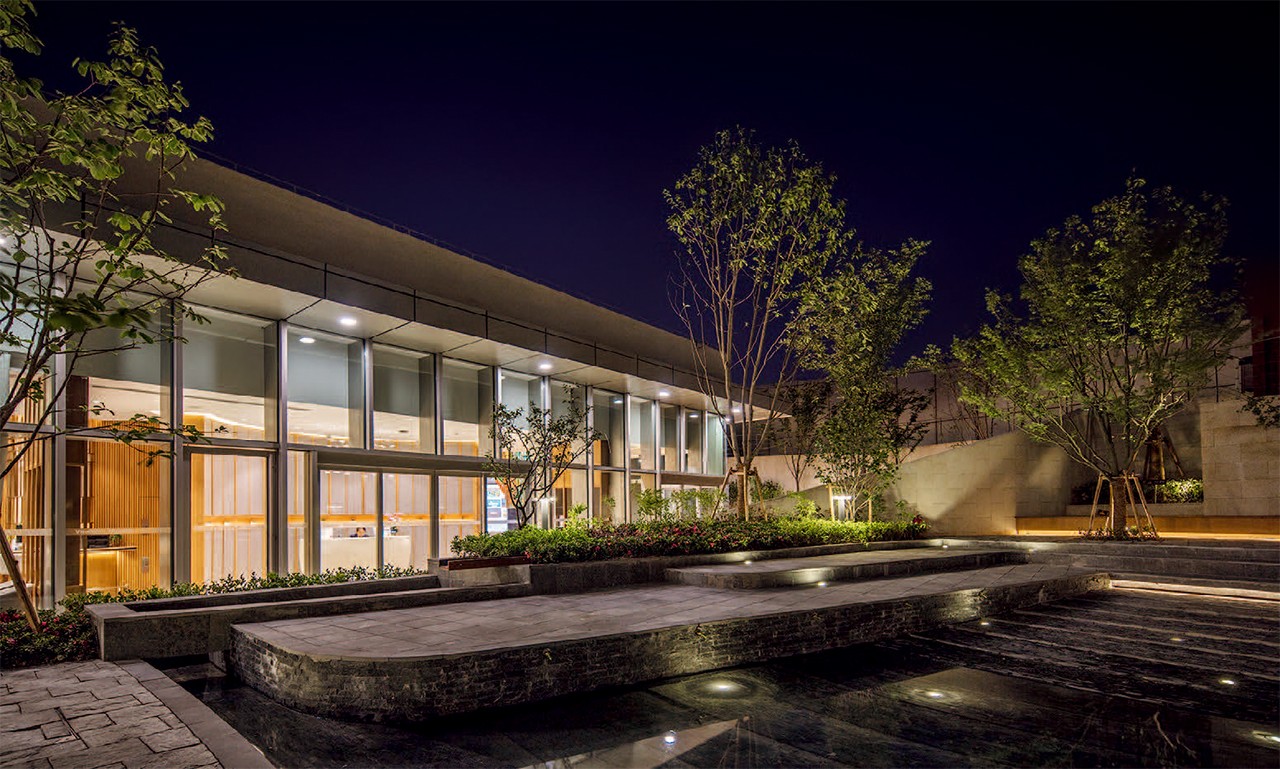 项目信息
项目名称:上海Vivo City怡丰城屋顶花园
设计师:长滨伸贵、石田真实
所在地:中国上海市
开发商:上海翎丰房地产开发有限公司
竣工:2017年5月
周期:设计 2015年5月—10月
   施工 2015年11月—2017年5月
设计面积:8 500 m2
合作单位:Dugout(设计合作)、YY studio(施工监理)
图片来源:图1~2由E-DESIGN股份公司提供;图3~9由张强军拍摄。
编辑:遆羽静
Project information
Project name: Shanghai Vivo City Rooftop Garden
Designers: Nobutaka Nagahama, Mami Ishida
Location: Shanghai, China
Client: Shanghai Ling Feng Real Estate Development Co., Ltd.
Date of completion: May 2017
Schedule: Design – From May to October 2015
Construction – From November 2011 to May 2017
Project area: 8,500 m2
Cooperation companies: Dugout (design cooperation), YY studio (construction administration)
Sources of photos: Fig. 1-2 are provided by E-DESIGN; Fig. 3-9 are took by Zhang Qiangjun
Editor: TI Yujing